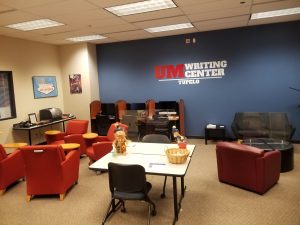 Location & Hours
Advanced Education Center, Room 261
Open during regular business hours beginning at 9 a.m., Monday through Thursday.
Types of Appointments
Whether you are an experienced writer or are just starting out, the Tupelo Writing Center is here to help! We provide free and effective consultations and resources that regional students need to progress as writers. Our trained consultants are ready to collaborate with you on any writing project you may be working on and at any stage of development. Regardless of whether you are brainstorming an essay, searching for peer-reviewed sources, or polishing your cover letter and resume, the Tupelo Writing Center can help provide the support you need to succeed!
Regional students, we are in tune to your writing needs. Thanks to collaborations with your instructors, we can offer targeted support on specific writing assignments. We also are attentive to seasonal times of the semester when you need to submit resumes, cover letters or personal statements. Most importantly, we offer convenient appointments for your busy lives, when you also are working, maintaining important roles in family life, and active in your communities while earning college credit. Online appointments, at your convenience, are available, in addition to in-person consultations in Room 261.
Our consultants are available to collaborate with you on a wide variety of topics, including…
Brainstorming
Finding and evaluating sources
Improving grammar and word choice
Crafting thesis statements
APA and MLA citation and formatting
Organization
Revision and proofreading
Career applications and documents