Get to know our writing center teams by clicking on the campus location below. Learn all about the director of each center and our fabulous writing consultants!
DeSoto
Director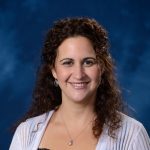 Dr. Jeanine Rauch | she/her
DeSoto Writing Center
UM DeSoto Campus, Room 332
mjrauch@olemiss.edu
Dr. Jeanine Rauch received her doctorate in Higher Education in May 2020 from the University of Mississippi. She has been working with writing centers for 15 years. She received her undergraduate degree in English with an emphasis in Creative Writing Poetry from Texas State University and her masters in English Secondary Education from Delta State University. Using her creative writing skills, she helps students find joy and ultimately confidence in their writing. She is a member the of the Mississippi Writing Project, National Writing Project, International Writing Center Association, and Southeastern Writing Center Association. She currently serves as chair for the Mississippi Writing Center Association. She has also presented at these conferences with fellow colleagues. Her interests are cooking, reading, painting, writing, visiting new places, and going out with friends.
Consultants